STILL writing virtually every day, Derek Walcott turns 85 next January on the centennial of Sir Arthur Lewis' birth. Perhaps there should be a massive celebration across Saint Lucia: something like a Jounen Sevelle, a festival of creative thinking. But in the meantime, we have PANTOMIME, one of Walcott's most popular plays coming to St. Lucia on Thursday, Friday and Saturday at the Palladium, Sandals Grande.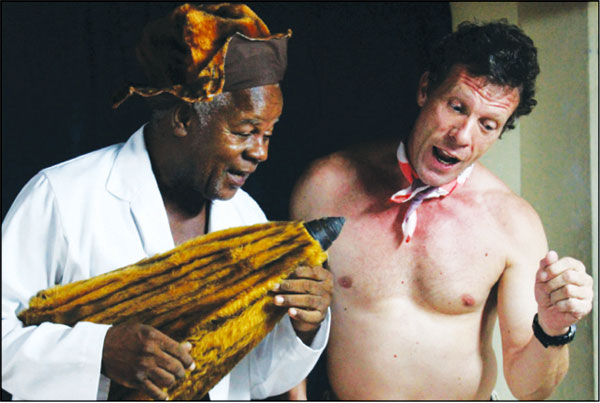 First performed in 1978 at the Little Carib Theatre in Trinidad, and produced for the BBC the following year, PANTOMIME has since been reworked to become something of a Caribbean classic. Beneath its unvarnished humour, the play remains remarkably relevant and timely in its candid commentary on post-independence social and racial politics.
Walcott explores these issues through the opposing eyes of two characters – Harry Trewe and Jackson Phillip – both marooned in Tobago at the less than successful Castaways Guest House. Harry Trewe – English, mid-forties, failed actor and probably bi-polar – oscillates between his public persona as white colonial master and his private failures in marriage, fatherhood and business. Nearing desperation, Trewe clutches at the idea of playing Robinson Crusoe in a Christmas pantomime intended to impress his impending guests and rescue his shipwrecked ego.
Meanwhile, Jackson, minor calypsonian, pan-yard bad-john and happily inconspicuous in the rundown guest-house, tolerates the indignity of playing waiter and relief carpenter but draws the line at acting the part of Cannibal Man-Friday. When granted the upper hand however, Jackson shows himself to be equally capable of both tyranny and heroism.
As it turns out, both castaway characters must wade through a sea of perception and prejudice to arrive at a common shore of understanding and respect. The process, both hilarious and poignant, requires a re-negotiation of terms between the two men: black/white, employer/employee, master/slave. The result is a series of wonderfully crafted role reversals, uprooting established notions of history, race, intelligence and social standing.
This latest version of PANTOMIME opened in Trinidad last weekend at the Normandy in Port of Spain. The two-night run turned out to be highly successful and a great lead-up to the much anticipated Saint Lucia tour. Both actors delight in Walcott's wit and wordplay and deliver the banter and repartee for which the play is so fondly remembered.
Director, Brenda Hughes – herself a product of the Trinidad Theatre Workshop founded by Walcott – has previously produced his DREAM ON MONKEY MOUNTAIN, JOKER OF SEVILLE and BRANCH OF THE BLUE NILE.
This staging of PANTOMIME, follows on the success of O STARRY STARRY NIGHT, the Caribbean premiere of Walcott's newest work produced in August 2013 by Landmark Events and the Saint Lucia Arts Festival Company. Presenting Sponsor 1st National Bank, has since committed to a series of annual Walcott productions confirming their role as a preeminent underwriter of St. Lucian art and culture.